Insta360 non è certamente un nome nuovo per gli appassionati di fotografia e video a 360 gradi, nel recente passato si è messa in luce con diversi prodotti validi, ricordiamo la One e prima ancora la Insta360 Air.
Oggi però parliamo di una fotocamera di un livello ancora superiore, probabilmente la prima al mondo di questo tipo, si chiama Insta360 EVO e può realizzare foto e video a 360 gradi in 5,7k e contenuti a 180 grfastadi di FOV in 3D.
Un nuovo concetto di fotografia e video che unisce due prodotti in uno, conservando tutte le peculiarità che hanno reso famosa Insta360, prima fra tutte la completissima suite software per l'editing e la pubblicazione dei contenuti immersivi.
Una fotocamera ripiegabile
In questo periodo vanno per la maggiore i foldable, la Insta360 EVO non ha nulla a che vedere con smartphone ripiegabili, ma a suo modo, è capace di ripiegarsi su se stessa per scattare foto e video a 360 gradi.
Il meccanismo è molto semplice quanto geniale: due obiettivi posizionanti fianco a fianco, in questa configurazione si comporteranno esattamente come i nostri occhi e potrete realizzare contenuti con un FOV di 180 gradi ma con in più informazioni sulla profondità, otterrete quindi sequenze in 3 dimensioni.
Facendo ripiegare le due fotocamere sulla cerniera centrale, otterrete la classica configurazione di una fotocamera 3D con due occhioni che guardano in direzioni diverse e permettono di coprire completamente la visuale a 360 gradi.
La fotocamera pesa 113 grammi e ha dimensioni di 98.4 mm x 49 mm x 26.27 mm quando i due obiettivi si trovano in configurazione 180 3D.
Nella parte alta del corpo ci sono due tasti che consentono di avviare la registrazione video o scattare foto e di effettuare lo switch tra immagini statiche e di movimento, il passaggio tra modalità 360 e 180 3D avviene automaticamente posizionando i due obiettivi nella configurazione desiderata. 
In basso è presente un foro standard fotografico da 1/4 di pollice, non c'è  però uno schermo di controllo. In alto e sul lato sinistro sono presenti due levette che servono per stabilizzare i due obiettivi nella posizione prescelta, fianco a fianco oppure back to back.
Due modalità di funzionamento: 360 gradi e 180 gradi 3D.
La prima modalità di funzionamento è quella più "standard", per quanto possa essere banale la realizzazioni di contenuti a 360 gradi. Su questo Insta360 ha maturato molta esperienza per cui non ci sono sorprese ma solo conferme, i video hanno una risoluzione di 5,7k (5760×2880 a 30fps) ad una profondità di 100 Mbps, mentre le foto vengono registrate a 18 MP nei formati principali (insp, jpeg, dng).
In entrambi i casi potrete realizzare contenuti in HDR con una eccellente stabilizzazione promessa dalla casa produttrice, che sfrutta algoritmi digitali basati sui dati di un giroscopio a 6 assi integrato. 
La vera novità riguarda però la modalità 180 gradi 3D, che sfrutta le stesse peculiarità di foto e video a 360 gradi ma adattate su un campo visivo di 180 gradi tridimensionale.
Otterrete contenuti da visualizzare su un visore, una cardboard e tra poco anche ad occhio nudo grazie a una particolarissima cover chiamata HoloLens.
Editing e condivisione immediati
Uno dei punti cardine di Insta360 è l'immediatezza d'uso dei suoi prodotti, fatta anche di editing e condivisione facilissimi.
Con la Insta360 EVO potrete sfruttare la consueta applicazione a cui collegare via Bluetooth o WiFi la fotocamera, la promessa è quella di modifiche rapide, montaggio video sia in 360 che 180 3D velocissimo e condivisione diretta sui social o upload su YouTube per entrambi i formati.
Potrete controllare il tempo e la prospettiva dei video sferici con risultati davvero particolari.
E' anche possibile collegare direttamente la fotocamera ad un visore VR e controllare in real time lo streaming video 360 o 180 3D, inoltre in confezione è prevista un piccolo visore a clip portatile e compatibile con pressoché qualunque smartphone.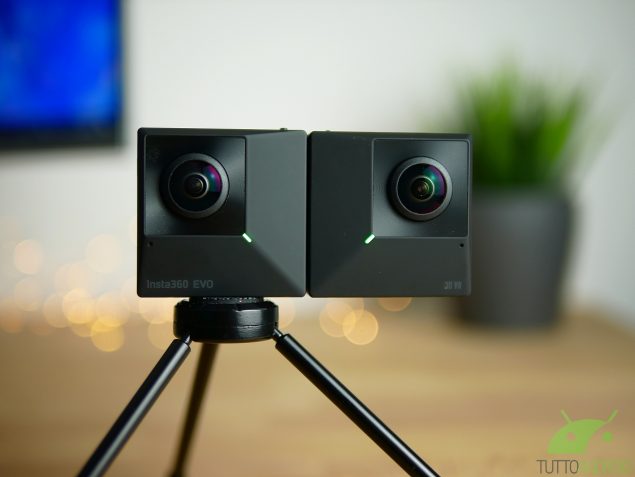 Specifiche tecniche
Riassumiamo nella seguente tabella le specifiche tecniche del prodotto
Specifiche

Apertura:

F2.2

Risoluzione foto:

6080*3040 (18 MP)

Risoluzione video:

5760*2880@30fps,3840*1920@50fps,3840*1920@30fps,3008*1504@100fps

Format foto:

insp, jpeg(can be exported via App), dng(RAW)

Formati video:

insv, mp4(can be exported via App), LOG

Video coding:

H264

Video Bitrate:

Up to 100Mbps

Stabilizzazione:

Built-in 6-axis gyroscopic stabilization

Specifiche foto & video 

EV:

-4EV~+4EV  

Exposure modes:

Auto, Manual(Shutter 1/4000s-55s, ISO 100-3200), Shutter Priority(1/4000s-1/4s, photos only), ISO Priority(100-3200, photos only)

WB:

Auto, Cloudy, Sunny, Fluorescent, Incandescent

Design

Colore:

Nero

Peso:

113g

Dimensioni:

Unfolded: 98.4mm*49mm*26.27mm;Folded: 50.3mm*49mm*52.54mm

Storage & Connettività

Bluetooth:

BLE4.0

Wi-Fi:

AC 5 GHz

MicroSD Card:

 exFAT(FAT64) format; max storage capacity is 128 GB

Batteria

Capacità:

1200mAh (5V2A)

porta:

Micro USB

Charging Time:

90 min

Autonomia:

65 min
Insta360 Holo Frame
Insta360 ha progettato un sistema chiamato Holo Frame per permettere di visualizzare i contenuti in 3D senza dover ricorrere ad un apposito visore, si tratta di una cover da applicare ad alcuni modelli di smartphone compatibili (Samsung Galaxy S8, S8+, S9, S9 Plus, iPhone X, XS, XS Max) sulla quale viene proiettato il contenuto in 3D. Avrete quindi la sensazione di visualizzare foto e video su più piani rispetto allo schermo del telefono.
Il funzionamento si basa anche su una tecnologia di tracking dello sguardo dell'utilizzatore, che fa in modo da allineare perfettamente la proiezione con il punto di vista.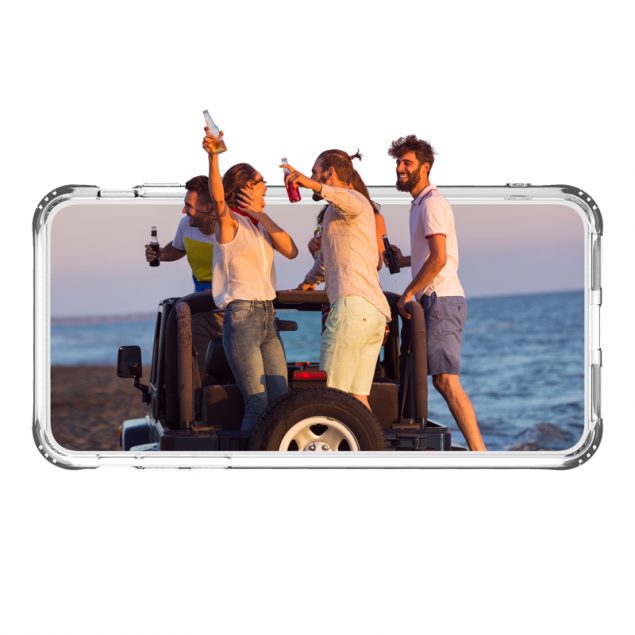 Disponibilità, prezzi e recensione
La nuovissima Insta360 EVO è già disponibile sul sito ufficiale a 469,99 Euro, mentre Holo Frame è venduto seperatamente a 29,99 Euro. Noi stiamo già provando la nuova fotocamera da alcuni giorni e tra pochissimo potrete leggere sulle nostre pagine la recensione completa, nel frattempo se avete domande o curiosità da porci, il box dei commenti è a vostra disposizione.
---
🔥 Non perderti le migliori offerte sulla tecnologia, segui il nostro canale

Telegram

: t.me/PrezziTech 🔥
---