Nvidia Tegra Note, conosciuto in precedenza come Tegra Tab, è finalmente ufficiale, dopo settimane di indiscrezioni. Il primo tablet di Nvidia è stato svelato dalla stessa azienda tramite un comunicato stampa pubblicato sul proprio blog ufficiale. Si tratta di una piattaforma base messa a disposizione per la realizzazione di tablet economici. Nessuna novità invece riguardo alle caratteristiche tecniche che sono le medesime emerse nelle scorse settimane.
Android nell'ultima versione, con aggiornamenti OTA direttamente da Nvidia

Display IPS da 7 pollici con risoluzione 1280 x 800

SoC Tegra 4
CPU quad core da 1,8 GHz
GPU GeForce con 72 core
Memoria interna da 16 GB espandibile con MicroSD
Fotocamera posteriore da 5 MP
Fotocamera anteriore VGA
Doppio speaker anteriore per un audio HD
Micro HDMI
Stilo con apposite applicazioni
10 ore di autonomia in riproduzione video
Tegra Note sarà lanciato insieme ad alcuni accessori, tra cui delle custodie che oltre a proteggerlo serviranno per sostenerlo su una superficie piana. Sarà disponibile globalmente a partire da 199 $ per i numerosi partner Nvidia, i quali potranno distribuirlo tramite i propri canali di vendita. Di seguito trovate il comunicato ufficiale dell'azienda.
[spoiler title="NVIDIA Reveals Tegra Note – Complete Tablet Platform, Powered by Tegra 4″]
By now many of you may have heard of NVIDIA Tegra Note, but are still wondering what it is.
Back in June at Computex, we briefly demoed an early version of the device, when it was better known as Tegra Tab. One of the many innovations it introduced was NVIDIA DirectStylus technology, which significantly improves passive stylus performance.
So what's Tegra Note?
It's a complete tablet platform, designed by NVIDIA and brought to market by our partners.
It embodies the NVIDIA brand — from our hardware and software (right down to OTA updates), to our industrial design, accessories and network of partners in game development.
It elevates the abilities of our partners, so they can provide tablets packed with innovation and features at prices they may not have been able to deliver on their own. In turn, NVIDIA gains access to their deep sales and distribution expertise in regions worldwide.
And it starts at a suggested retail price of $199. That will help many more people experience the new technologies going into Tegra Note, including its 100 percent Android OS.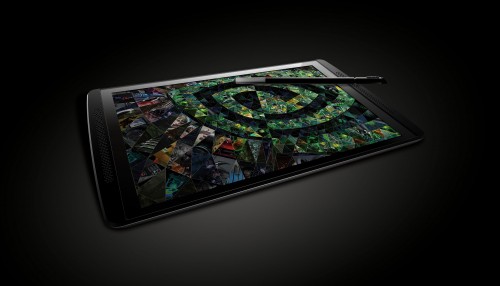 Tegra Note — a complete tablet platform, powered by Tegra 4.
This isn't a first for us. About a year ago, we announced Project KAI — a Tegra 3 reference design intended as a recipe to build low-cost, high-quality Tegra 3 tablets. Google's Nexus 7was one. Tegra Note takes this to the next level by delivering a complete platform, not just the hardware.
In the next few months, our partners will be bringing Tegra Note to market worldwide with features that speak to local consumers, among them are EVGA and PNY Technologies in North America; EVGA, Oysters and ZOTAC in Europe; Colorful, Shenzhen Homecare Technology and ZOTAC in Asia-Pacific; and XOLO in India. They join other partners, including HP, ASUS, Toshiba, Kobo and Xiaomi, that have already announced Tegra 4-based products.
To whet your appetite, here's a rundown on some of the Tegra Note's unique features:
Ultra-fast performance — Powered by Tegra 4 with a 72-core GeForce GPU and quad-core Cortex-A15 CPU with a fifth battery-saver core, making Tegra Note the world's fastest 7-inch tablet.
Superb stylus — NVIDIA DirectStylus technology transforms a normal stylus into an incredibly responsive experience with finer point and broader stroke control. It also comes bundled with apps for convenient, stroke-based note taking.
Exceptional sound — NVIDIA PureAudio technology offers rich, deep audio — including the widest frequency range in a tablet — through front-facing stereo speakers with a bass-reflex port.
Groundbreaking camera — The camera uses Tegra 4's processing power and Chimera computational photography architecture to deliver stunning new features. Tegra Note also brings SmugMug's Camera Awesome app — one of the top camera apps on iOS — to Android. Camera Awesome delivers exclusive Tegra 4 features like tap-to-track and 100 fps video with slow-motion playback.
TegraZone gaming — Delivering unmatched gaming, NVIDIA TegraZone provides easy access to Tegra-optimized games with visual effects that aren't available on other tablets. Tegra Note also supports a variety of game controllers for console-class gaming.
Great battery life — 10-plus hours of HD video playback.
Accessories galore — An intelligent slide cover flips and bends to support and cover the tablet. It also lets the tablet be set up in three distinct positions using built-in magnets for added flexibility. The DirectStylus Pro Pack enables a variety of writing styles with interchangeable tips. And Bluetooth capabilities turn the tablet into a game controller.
On top of that, users get over-the-air (OTA) software updates provided directly by NVIDIA. This will help ensure customers have current software, offering the richest experience with their devices.
Here's a full set of the specs for quick reference:
| | |
| --- | --- |
| Processor | Tegra 4 mobile processor with quad-core Cortex-A15 CPU and 72-core GeForce GPU |
| Display | 7-inch HD IPS LCD display (1280 x 800) |
| Camera | Rear 5MP and front VGA webcam |
| Storage | 16GB storage with microSD expandable up to an additional 32GB |
| Audio | Front-facing "HD Audio" stereo speakers with a unique bass-reflex port |
| Stylus | Chisel and Brush tips for natural writing and broad strokes |
| Peripherals | Micro HDMI connector to drive big screen TV videos and gaming |
| OS | 100% Android with latest version of the OS |
| Software Updates | Over-the-air software updates directly from NVIDIA |
| Battery Life | 10 hours HD video playback |
[/spoiler]