Buone notizie per i possessori di NVIDIA SHIELD TV: il produttore, infatti, ha finalmente dato il via al rilascio dell'aggiornamento ufficiale ad Android 8.0 Oreo.
L'update non porta con sé solo la nuova versione dell'OS di Google ma anche diverse feature, migliorando così quella che è l'esperienza offerta.
In particolare, Shield Experience Upgrade 7.0 introduce modifiche alla schermata principale, portando le app, i programmi, la musica e i giochi in primo piano e consentendo agli utenti di personalizzarla a proprio piacimento.
Questo il changelog completo con le novità in arrivo su NVIDIA SHIELD TV:
A Brand New Home Screen: All your entertainment is now in one place with Android 8.0 Oreo. Live TV, video-on-demand, streaming media, and games – it's all there and it's fully customizable!
Favorite Apps: You choose the apps and the order! Hold the Select button on an app to move it. To access all your apps, hold the Home button or select the red Apps icon.
Play Next: Continue where you left off in TV shows, movies, and games. To add content to Play Next, navigate to the content and hold the Select button. Note: Not all apps support Play Next.
Channels: Discover new entertainment from your favorite apps. You choose the channels and the order. Navigate left on a channel to move or remove it. Note: Not all apps support Channels.
Apps are TV Channels: Organize your favorite apps into a "TV guide" style layout. See shows from each app on the home screen.
Amazon Prime Video Gets a Big Update: Discovering new shows has never been easier with the new Prime Video user interface. New features include the ability to add and remove shows to your Watchlist and more.
PLEX Media Server Expands Storage Options: Your server's app data (metadata, background art, and more) can now be moved to USB storage devices. From the PLEX app, go to Settings > Plex Media Server > Storage Location.
Watch Live Sports with ESPN+: Cut the cord and watch live sports on ESPN without a cable plan. The ESPN+ subscription service is now available on the ESPN app.
Enjoy YouTube Red Originals in 4K Ultra HD on YouTube TV: Watch original series like Cobra Kai in 4K. Plus, enjoy your live sports in full HD at 60FPS for smooth live action gameplay in top channels like CBS and NBC.
FandangoNOW Offers Huge Selection of Movies in 4K Ultra HD: You can now watch the newest movies including Black Panther in stunning 4K Ultra HD.
Enjoy the New SmartThings Hub Update: Certain automations that control Zigbee and Z-wave devices can now run locally without requiring cloud processing, leading to faster response time.
Watch CNBC: Stream CNBC's business news, financial information, and market data or log in with your TV service provider to watch CNBC Live's primetime shows like Mad Money, Closing Bell, and Shark Tank.
Watch Dish Network: SHIELD is now your Dish Network cable box with the Dish Anywhere app. Access live TV, recorded shows, or on-demand movies.
Discover your Dream Home: Search for new homes and view immersive photos and video walkthroughs on your big screen TV.
What's New on Google Assistant: Google Assistant Adds 6 New Voices

Open Settings -> Preferences on the Google Assistant app on your phone.

New smart home partners:

Arlo cameras
Emerson Sensi
Ikea Tadfri
LG Smart Appliances
Scenes support for Phillips Hue

New services:

UPS
Dunkin' Donuts
Lonely Planet Travel Guide

New games:

Shadowgun Legends
Crashlands
Morphite
Dandara

The latest monthly Android security updates
Quick access to Settings when you're on the home screen by holding the Back button
Support for high polling rate gaming mice for NVIDIA GameStream
Improved support for game controllers:

Customize SHIELD controller thumbstick dead zones (Settings-> Apps-> Input viewer)
Xbox 360 and DualShock 4 v2 controllers
DualShock 4 controllers using USB wireless adapter

Adds "Connect" option to re-pair disconnected Bluetooth accessories (Settings->Accessories)
Ability to connect to Wi-Fi without disconnecting Ethernet (Settings-> Network-> Ethernet)
General stability fixes on SHIELD remote (2017) and controller (2017)
Latest accessory firmware versions:

SHIELD controller (2017): v1.24
SHIELD controller (2015): v1.96/99/3.71/0.32
SHIELD remote (2017): v1.33
SHIELD remote (rechargeable): v.1.30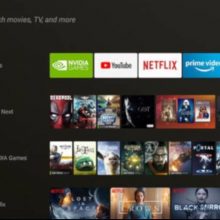 Con l'update sono state introdotte anche nuove gesture:
Tenere premuto il tasto Home per vedere tutte le app
Tenere premuto il tasto Indietro per visualizzare le impostazioni
Premere due volte il pulsante Home per visualizzare le app recenti
Tenere premuto il pulsante Seleziona (o il pulsante A del gamepad) sul contenuto da aggiungere a Riproduci dopo
Tenere premuto il pulsante Seleziona (o il pulsante A del gamepad) sulle app da spostare o rimuovere
Mentre si è su una fila di canali, navigare completamente verso sinistra per spostarlo o rimuoverlo
L'aggiornamento è già in fase di rilascio ma saranno necessari alcuni giorni perchè raggiunga tutti i modelli disponibili sul mercato.
Fonte: Androidpolice.com