Google ha iniziato nella giornata di ieri il roll out della nuova versione dell'applicazione di YouTube, arrivata alla versione 11.45; le novità non sono molte, anche se nascoste all'interno del codice ci sono alcune nuove funzionalità che arriveranno probabilmente nel prossimo futuro.
Innanzitutto, ecco l'icona circolare, corredata dalle scorciatoie, che i possessori di un Google Pixel avevano avuto già modo di vedere; ovviamente parliamo di una novità legata ad Android Nougat, che da la possibilità di accedere in modo più veloce ad alcune sezioni del servizio (i video di tendenza, le nostre iscrizioni e la barra di ricerca).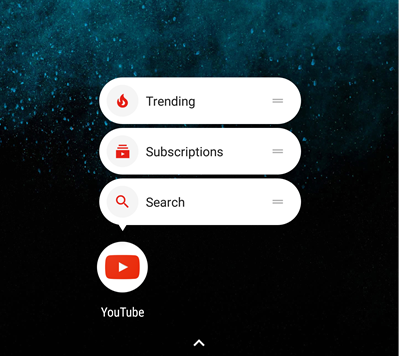 Spulciando nel codice, ecco invece alcune novità che potrebbero arrivare nel prossimo futuro; iniziamo con la possibilità di mandare avanti o indietro un video in facilità, sfruttando dei tasti dedicati. Google avrebbe infatti introdotto anche un tutorial per spiegare agli utenti come sfruttare la funzionalità.
In arrivo anche le valutazioni direttamente da Rotten Tomatoes, il noto sito web aggregatore di recensioni e informazioni, sui film visibili tramite YouTube (e quindi anche tra quelli acquistati su Play Store).
Nel caricamento di un video potremo in futuro sfruttare un nuovo e inedito filtro, chiamato "Dance Party", mentre sono diverse le novità che potrebbero anticipare l'arrivo della possibilità di trasmettere video in live streaming; parliamo della richiesta di utilizzo di microfono, fotocamera e flash, oltre alla possibilità di gestire il bitrate.
<string name="edit_filter_dance_party">Dance Party</string>

<string name="lc_permission_allow_access_description">To go live, allow access to Camera and Microphone</string>
<string name="lc_permission_open_settings_description">To go live, go to <b>Settings &gt; Permissions</b> and allow access to Camera and Microphone</string>

<string name="lc_flashlight_off">Flash off</string>
<string name="lc_flashlight_on">Flash on</string>

<string name="lc_abr_toggle_text">Enable adaptive bitrate</string>
<string name="lc_stats_target_bitrate_label">Target bitrate</string>
<string name="lc_stats_target_frame_rate_label">Target frame rate</string>
Se siete interessati a provare questa nuova versione di YouTube potete scaricare il file APK da APKMirror.
Fonte: Androidpolice