Motorola i867 Ferrari, uno smartphone Android da Nextel Brasile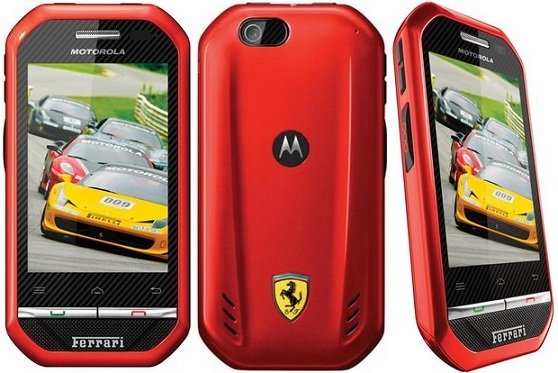 A volte fanno la loro comparsa alcuni smartphone Android ispirati al mondo delle corse. Alcuni di essi sono, ad esempio, lo smartphone Luxury by Lamborghini e l'Acer Liquid E Ferrari. Ed è proprio la scuderia di Maranello con sede in Via Abetone Inferiore che ci riprova con un nuovo smartphone Android, stavolta prodotto da Motorola in collaborazione con la società di telecomunicazioni Nextel Brasile. Lo smartphone in questione è il Motorola i867 Ferrari e non è di certo un top di gamma come magari molti si aspettavano. Purtroppo lo smartphone sarà disponibile solo in Brasile ma non è da escludere che Ferrari possa portarlo anche in Italia.
Le specifiche tecniche dello smartphone parlano abbastanza chiaro su quelle che sono le sue reali potenzialità, relegandolo alla fascia bassa del mercato:
display da 3,1 pollici
GPS
Wi-Fi
Bluetooth 3.1
Fotocamera da 3 megapixel con zoom 4x
Push To Talk
200 MB di memoria interna espandibile con microSD da 32 GB (scheda da 2 GB inclusa nella confezione di vendita)
Per la realizzazione dell'i867 Ferrari, Motorola si è ispirata del tutto ad un altro suo smartphone che porta lo stesso nome, ovvero l'i867 dal quale prende in prestito design e specifiche tecniche.
La versione Ferrari dello smartphone si è ispirata molto alla Ferrari 458 Italia e, probabilmente per questo, il Motorola i867 Ferrari sarà commercializzato in Brasile ad un prezzo di 600 euro, un prezzo davvero esagerato per un device del genere che però potrebbe essere un must have per tutti gli amanti delle corse e della Ferrari.
Di seguito il comunicato stampa ufficiale da parte di Motorola Mobility e Nextel Brasile.
[Via]